The idea of surviving in the wilderness has become a more mainstream idea thanks, in part, to reality TV.  Most often, people who don't make it in emergency situations often perish from exposure, not from dehydration or starvation. Hypothermia and Hyperthermia are both deadly conditions that should be a number one issue to address when faced with a survival scenario.
A reliable shelter will go a long way when facing the elements.  Here are some good ways to accomplish this important survival skill.
First, Find the Right Spot
Your shelter should be in the driest area available.  If temperatures allow, try to build on higher ground. This will make it easier for breezes to keep away bugs and allow you to see more of your surroundings.  If its cold and the wind is blowing, choose an area sheltered by trees.
Primary Places to Avoid Building a Shelter.
Damp areas.
Elevated areas exposed to cold winds.
Low areas where cold collects after dark.
Ravines or dried creek beds where water can flood during rain showers.
Option 1: The Makeshift Sleeping Bag
If night is falling quickly, and you don't have time to scout for something more substantial, collect dry leaves, pine needles, bark and other items from your surroundings.  Create a pile two or three feet high and longer than you are.  Then, climb in carefully and gather the pieces around you.  This will offer you full body protection from heat loss the way a sleeping bag will.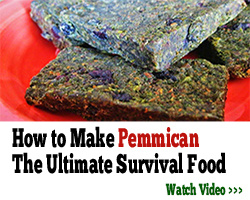 Option 2: The Lean-To
If you find a fallen tree, a rock or a small overhang, start by leaning fallen branches against the object at an angle to create a wall and shield from rain. Next, cover the created structure with leaves, pine needles, bark and anything else available to fill in the areas between the branches.
Once you have a thick wall built up, crawl underneath and inside.  Building a fire on the open side will help you heat the area and make it more comfortable.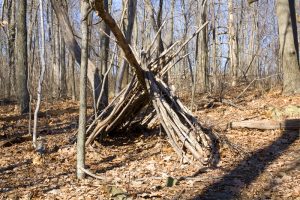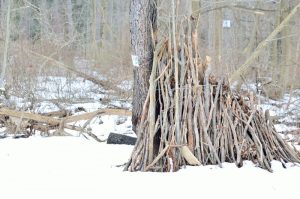 Option 3: The A-Frame
If a solid foundation for a lean-to is unavailable, the A-frame is a good option.  Find or cut 2 branches 4-5 feet long and an additional branch 10-12 feet long.
Related Article:  "3 Unique Ways to Purify Water During Survival"
Prop the shorter sticks together in the shape of an A then lay the end of the longer one on top of the intersection.  Tie the three pieces together where they cross with rope or anything else available. This creates the basic structure with an opening on one side and a tapered roof and wall area that ends on the ground.Prop up additional branches against the longer piece and create your walls the same way you would a lean to.
Prop up additional branches against the longer piece and create your walls the same way you would a lean to.
Finally:  Make Your Bed
Creating a layer of insulating matter to lie on inside your shelter will also assist in maintaining the temperature.  In a similar manner as creating your makeshift sleeping bag, gather dry material from the area to use as a mattress and covers.
An important thing to keep in mind when planning a shelter against cold weather, only make your shelter big enough for you and anyone with you.  If the space is too large, it will be harder to keep it heated.
For the structural options mentioned above, minor changes can be made in environments where excessive heat may be an issue instead of excessive cold.  When filling in the walls, placing materials more loosely will provide shade and allow breezes to pass through.
If facing a warmer climate that cools rapidly at dusk, simply have additional materials ready to fortify the walls before you go to sleep.
Let Us Know What You Think...