When a boat capsizes (turns over) it can be a scary experience.  And, although some have the capability of righting themselves, most just turn into a large water hazard you'll have to contend with. To help you be more prepared for this possibility, there are several things you'll want to watch out for or work on to help ensure you survive until help arrives.
Avoid Drowning
This one is fairly obvious, but not always as easily accomplished.  If you are out on the water for a day of fun in the sun, the last thing you want is to be wearing a lifejacket.  If you find yourself in the water with little to no warning, be on the look-out for any flotation device.  These could be a standard life jacket, but could also take the form of seat cushions, coolers, wetsuits, inflated plastic bags (you may need to do the inflating) or several empty plastic beverage containers.  Yep, all those bottles of water or soda you've consumed could help save your life.
Avoid Entanglement
This is especially an issue when dealing with sailboats.  The rigging present on a well-built sailboat can turn quickly into a serious water hazard.  Keep in mind though that other boats will often have tether or tow lines, anchor lines, and even fishing lines or netting that can tangle you up and pull you under.
If you do get caught up, avoid moving around as much as possible while you work to untangle yourself.
Prevent Hypothermia
If you are wearing a flotation apparatus, you can help your body retain heat by holding your knees to your chest.  If you aren't alone, try to gather as close together as possible with your arms around one another.  This conserves and shares body heat. Also, keep on as much of your clothing as possible, provided it's not causing you to sink.  This includes your shoes.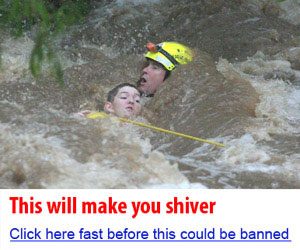 Watch for Underwater Threats
Fish like to gather underneath large items floating on the surface of the water.  If allowed to gather long enough, they will attract predators which may include sharks.
To help the sharks stay focused on the fish instead of you, avoid splashing or otherwise thrashing around in the water.  This behavior sounds like an animal in distress, which is a strong attractor of sharks.
Also, avoid letting blood seep into the water.  If anyone is wounded, do your best to stop the bleeding and bind the wound, so it doesn't initiate a feeding frenzy.
Other hazardous water life that you might encounter, depending on your location, include:
Alligators
Crocodiles
Jellyfish
Moray Eels
Sea Snakes
Look Out for Large Vessel Hazards
While this section doesn't apply to smaller vessels, if you are planning to take a cruise someday, you'll need to be aware of this possibility.   Just like a plane, ships have safety info in place in the case of an emergency.  Unlike a plane, if a large ship capsizes either completely over, or on its side, everything is going to look different.  If you find yourself in this unlikely situation, make sure you watch for fallen debris, open doors underfoot, and changes in the level of the ceilings that may now be the floor.  Focus on getting to the nearest exit.
Avoid Structural Collapse
When a ship capsizes the added water pressure on the bulkheads can force them to buckle.  It's best to get to the outside of the vessel as quickly as possible, grabbing any source of floatation as you go.
Then, try to get as far away from the sinking ship as possible.  If you remember James Cameron's epic Titanic, when she finally sank, she created a suction that submerged everything around it temporarily.  If you get caught in this suction, work to get back to the surface as quickly as possible.  If you've managed to secure a floatation device, it will help you surface faster.
Let Us Know What You Think...