There's no way to determine when you're going to lose power. Unfortunately, when the power does go out, there is no way to know when it's going to come back on either. Being without electricity for a few hours or maybe even a couple of days is do-able. What happens if things go longer than that though? How are you supposed to get through your daily activities of life without the common amenity everyone living today has become accustomed to having? You can get your power turned on in just a few minutes by turning your car into a generator. Follow these steps to safely and effectively power your home, campsite, or another location with the energy stored in your vehicle.
Gathering Your Supplies
Before you can turn your car into an emergency generator, you have to make sure you have all of the necessary supplies. Don't wait until you find yourself in an emergency situation. It's a good idea to prepare by getting what you need and practicing the process to be confident you can do it when the time comes. The items you are going to want to have on hand include:
Power inverter — I personally own this great inverter: Bestek 400w/500w Car Power Inverter DC 12V to AC 110V
A solid board to attach the inverter to
Flashlight
Two or more single to triple 3-wire grounding adapters
At least two 12-gauge extension cords
A plastic tote to store everything in
The Steps
First, take your large board and securely attach the inverter to it. You want to prevent the inverter from falling into the engine while you're using it. Be sure the device is turned off before attaching the battery clamps to the battery. The red goes to the red, and the black goes to the black, just as if you were jumping a car. Don't use the cigarette lighter connection because it won't be able to handle the power load.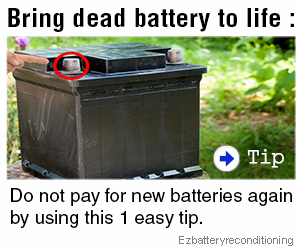 Second, take your board with the inverter on it and set it on top of the engine compartment somewhere that is stable enough to hold it. Take your extension cord and plug one end in the inverter and the other end in an outlet in your home or whatever location you are trying to get power to. Switch on the power.
You can use your wire grounding adapters if you want to split the power off and use it for multiple different devices like lights and electronics. You should have a working generator now! It's a lot more affordable than the small ones you can purchase, and it's already readily available sitting in your garage or driveway.
Things to Remember
If you need to cool your refrigerator or freezer using this method to prevent food spoilage, make sure nobody is opening and closing the doors. The more you do that, the longer it's going to take to be effective.
Just like if you sit with your car running the stereo and lights without actually being turned on, with use, your battery is going to drain powering things inside of your house slowly. It's going to be necessary to go out and turn your vehicle on once in a while to charge it back up.
That being said… DO NOT run your car in the garage with the door shut, no matter what the outside conditions are. Your car produces carbon monoxide, and if it doesn't have a way to escape into the atmosphere, it's going to travel into your home or build up in the garage reaching a potentially fatal range.
If you have to leave your vehicle outside, run the power cord through a window and surround the open spaces with towels. It prevents warm air from escaping and cold air from getting in if the conditions are wintery.
As you can see, creating a generator with the help of your vehicle is fairly simple and will be a life saver if you will be without power.
Here is a short video showing you exactly what to do and how it works:
Let Us Know What You Think...