We all love seeing wildlife when you know that you are well protected with some sort of barrier between you and the creature. The idea of running into a large animal like a bear, snake, or moose while walking your favorite trail is something that's always on your mind. It can be a bit terrifying. It's even what keeps some people from exploring certain regions.
You don't have to stop enjoying nature because of the fear of an animal encounter. While these tips aren't foolproof by any means, they can help keep you safe if you do run into an animal.
General Tips for Safety
Remember that most wild animals are going to stay away from you naturally.
Keep an eye out for droppings and tracks that can prove an animal is near.
Stay calm if you do encounter an animal. Walk, don't run away from it.
After reaching safety, let a park ranger or official agency in the area know what you saw.
Bears
The best way to keep bears away from you is by talking loudly or even singing while you are out in the wild. It might seem kind of silly, but it's an effective method. If a bear does start acting aggressively towards you by slapping the ground, keep your eyes on it and start backing away slowly. Keep talking calmly to it as you do.
It's rare that a bear will attack, but if one does, you have to fight back. Use bear spray if you have it. If not, you have to find something to use as a weapon. After a bear makes contact with you, play dead for a better likelihood that it will walk away.
Snakes
Watch where you're stepping and keep your ears open for snakes. Rattlesnakes will warn you of their presence with the shaking of their tales. After hearing it, find it, and let it do what it's going to do. Stay away from them. They can strike out at a distance of half their length, and you can't entirely know what that length is if they are coiled up.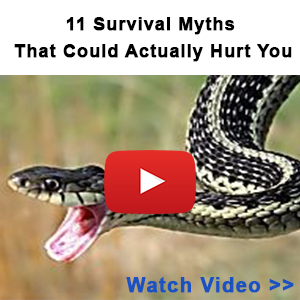 If you do get bit by a snake, try and see what kind it is so you can tell the medical personnel that treats you. Immobilize the body part that has been bitten and try and reach a place where you can find help or call 911.
Mountain Lions
Small children and pets should stay close to parents when scratching and droppings of mountain lions are noticed. Make noise, as that's going to keep the animals away. There isn't a high probability of encountering a mountain lion, but if you do, act big and be loud. If you are with other people, join together to look even bigger. Give the cat a way to escape.
Keep eye contact with the feline and act aggressively so that the mountain lion doesn't look at you as prey. In the rare event that the animal still doesn't back down, throw sticks and rocks towards it and fight back.
Moose
You're going to notice a moose before they see you. They might not seem that dangerous, but more people get injured from moose per year than bears. Give the animal plenty of room to keep them from becoming protective and aggressive. Stay far enough away and keep making noise so that the moose knows where you are.
Aggression in a moose is raised hair, grunting, stomping, and ears back. If the moose does charge you, it's one that you should run away from. Hide behind something if you can. Curl up in a ball and protect your head while playing dead if you do get stomped to the ground.
Most Effective

Survival Techniques That Tackle the Most Unexpected Developments – – Learn More Here>>>

Let Us Know What You Think...