Despite what the authorities (and T.V. and Movies) would like you to believe, handcuffs are not actually that difficult to pick.  People with no other lock pick experience or skills can learn how to open a set of handcuffs.
The design of handcuff locks involves pushing a single lever on the inside of the mechanism aside in order to disengage the lock.
Yep, you read that right, one tiny little lever.
The only real challenge is having something thin enough to get inside and at the correct angle. An object bent at a 90-degree angle works best.  A convenient item to keep handy for these occasions is a bobby pin (hairpin) or two or three; it never hurts to have a spare.
Other options that may take a bit more effort include paperclips, L-shaped twigs and even the cardboard part of a de-fuzzed cotton swab.
One thing that is interesting, in the case of handcuffs, a DIY approach is the most effective.  That's because it is nearly impossible to pick a handcuff lock with actual lockpicks.  They aren't the right shape and are usually too thick. Another interesting fact is that 99% of all handcuffs ever made can be opened by the same key.  So, a 30-year old plastic novelty key will also open brand-new police issues.
High-security handcuffs do contain a tumbler lock, but they aren't commonly used for day to day policing.
The most recognizable handcuffs are the iconic chain version.  These can easily be pick from practically any position.  More current designs now use rigid cuffs, making them physically impossible to the person cuffed to unlock if they are put on properly.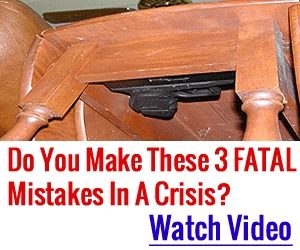 Zip-tie cuffs have become more popular, but it's still possible to get them off if you have something extremely slim to insert between the locking part and the strap.  Some force, patience and wiggle room are required, but it's doable.
Suggested Article:  "Cool Trick to Escape From Zip Ties"
If you find yourself in the grips of a single zip-tie instead of the cuffs version, there is another way you may be able to get out of them.  Be prepared, however, for some pain and discomfort and possibly a little blood.  Still, want to know how this method works?  Ok, you were warned.
This works if your hands have been bound in front of you.  If they've been secured behind your back, you'll want to work your hands to the front first.
Use your teeth to tighten the zip-tie as much as possible without cutting off circulation.  Then, raise your hands above your head and bring them down as quickly as possible to your hips.  This quick and forceful movement should wrench the zip-tie apart.  Just remember, this method will hurt, probably break some skin, and if it doesn't work your restraints may not be uncomfortably tight.
A Few Words of Caution
Before you go about the process of ridding yourself or a friend (accessory?) think the consequences through carefully.  While all fun and games during a party at a friend's house, if the cuffs in point have been placed on your wrists (friend's wrists) by an officer of the law, removing them may land you into more trouble than you realize.
Resisting arrest is a serious statement, a serious charge, and a seriously lot of trouble that will be piled onto whatever trouble got you cuffed in the first place.
The information provided above should only be used in recreational or survival situations.  Otherwise, it's possible your lawyer isn't going to accept your calls.
[Learn More]

  Common mistakes people make when in survival mode, watch this video to find out the truth.  Watch Here>>> 

Let Us Know What You Think...