Purslane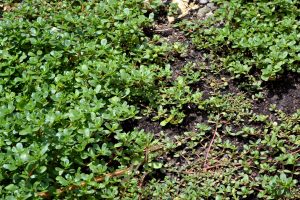 Purslane or Portulaca oleracea is an annual succulent wild edible green that is usually considered a weed.  It can be identified by its thick, succulent leaves that alternate on its tender, reddish stems.  It has small yellow flowers that can be found year-round depending on the weather conditions of the region. While the unappreciative may spray purslane with herbicide, the hungry wilderness survivor will be happy to see this nutritious food source.  Here are some of the characteristics and nutrition information of purslane that makes it so valuable to those in the wild.
Purslane can be found all over the world in a variety of zones and conditions. This makes it ideal as a survival food because if you become familiar with it in your area you will be able to spot it elsewhere.
Some mistake prostrate spurge for purslane, but spurge has a more sturdy stem, smaller white flowers, and produces a white milky sap from the stem when it is broken. Milky discharges are a good way of determining that a plant should not be eaten.  Make sure you are not harvesting spurge which grows in similar locations and conditions as purslane.
The seeds and the leaves are edible, both cooked and raw. Not only is it easier to consume them raw, but it is more nutritious.
Purslane is low in calories and cannot be relied upon for energy, but it can provide a variety of essential vitamins and minerals to keep you healthy when dealing with the stresses of survival. Purslane contains more omega 3 fatty acids than any other leafy green vegetable.  It is also high in vitamins A, B, C, and E which help boost the immune system, and dietary minerals such as calcium, magnesium, iron, and potassium.
Keep an eye out for purslane in your area, it can grow along hiking trails and even in sidewalk cracks.  Adding to your survival menu can help keep you healthy and is one more wild edible that can increase your chances of survival.
Trout Lily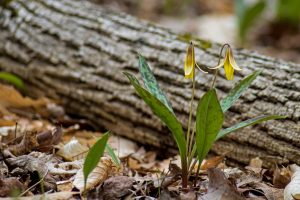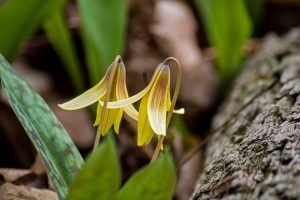 Trout lilies are in the Erythronium genus along with 30 other species of flowers.  They grow in temperate forests and meadows throughout the Northern Hemisphere, typically flowering in the spring.  They can vary greatly in flower color, but they tend to have a six petal flower with a speckled center, two oblong leaves with brown speckles, a lower stem with reddish color, and a root bulb that looks similar to a dog's canine tooth (which is why some species are known as dog-tooth violets).  These flowers can be a real sight for sore eyes to anyone surviving in the wilderness, not only are they beautiful, they are edible.
They are usually found in groups, so if you only see one, move the surrounding grass or fallen leaves to determine if there are more.
The flowers have a sweet taste and can be eaten raw. They will taste best if you eat them right when you find them rather than waiting until you have harvested enough bulbs to take back to camp since they will wilt.
The leaves can be eaten raw or boiled.
The root bulb will be the most valuable portion of the plant to a wilderness survivor since it offers carbohydrates and protein. After removing the paper-like hull, it can be eaten raw, dried, or cooked.  The taste is like an earthy cucumber crossed with a potato.
They do not grow as quickly as some wild edibles so they should not be harvested in mass to satisfy curiosity when hiking or camping. Pulling up one or two shouldn't hurt their numbers next year and will be enough to give you an idea of their characteristics.
Since they only produce two leaves when fully mature, and a small root bulb, trout lilies are not going to provide you with a bounty, but survivors can't be choosers and they will give you enough to keep you going until your next meal.
>>>Are you in an endless battle with inflammation in your body…possibly causing discomfort in your daily life?  Have you tried Turmeric Curcumin — a touted natural anti-inflammatory?  Try it today at a huge discount on this link only>>>
Let Us Know What You Think...