Storing survival food in buckets is a very great idea. They will keep your food protected from light, temperature, and moisture, and help to store them neatly and securely in your basement or garage. They have the added advantage as well of being able to be transported quickly and easily, should you have to evacuate your home.
But, not all buckets are created equal. You might be tempted to use any bucket you have access too, especially those you can get for free. If you want your food to last, though, you'll want to make sure you're storing it in food-grade buckets. 
Fortunately, identifying food-grade buckets isn't too complicated, and, since a lot of food is delivered to many restaurants and businesses in food-grade buckets, you can actually often find them for free. Check local bakeries, sandwich shops, and big box stores to see if they discard any buckets you could snag for free.
How to identify food-grade  buckets 
The best way to check if a bucket is food-grade, meaning it will preserve and protect food for the longest period of time, is to check the bottom of the bucket.
The recycling number, which is that little number inside the triangular recycling logo, will tell you what kind of bucket it is.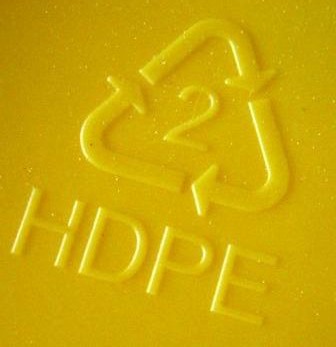 Numbers 1, 2, 4, and 5, are always food grade. 
Number 2 buckets are the best quality, as these are made out of high-density polyethylene (HDPE), which is ideal for food storage.
Numbers 1, 4, and 5 are also fine to use for food storage, and are made out of PETE, LDPE, and polypropylene (PP), which is suitable for food storage.
Sometimes, buckets with a recycling number 7 are also acceptable for food storage, as they're made out of bio-plastics, but not all buckets with a number 7 on them are made out of bio-plastics, so if you see a number 7, see if you can also see any indication on the bucket as to whether it is made out of bio-plastic or not.
If you're going to store your food in buckets, make sure you do it right! Food-grade buckets are easy to identify, so use these simple rules and you're sure to store your food properly.
Let Us Know What You Think...