Although this possibility is less likely today than it was even 50 years ago, it's still possible to accidentally run a boat onto a coral reef and turn it into a pile of scrap.  If you should find yourself in this unique survival situation, here are some tips to help you last long enough to be rescued.
You Must Stay Calm
Our brains don't work as well when we are panicked.  To get out of a sinking boat and into a lifeboat or a floatation device, you need to be able to think clearly.  If you find yourself starting to panic, take a breath, assess the situation, and work through the problem. If you are under the deck, find a life jacket and an exit.  If you are above deck, find a life jacket and determine if you need to abandon ship or wait.
Use What You've Got
If you know that ship is going down, depending on how long you've got, try to gather as many supplies as possible.  Obviously, food and water are going to be a priority, but other items like signal flares or flashlights, matches and basic tools may also come on handy.
Make a Plan and Keep It
In theory, a ship's crew should already be versed in a plan to evacuate.  If they don't seem to be on top of things, work to calm the others and determine what can be done.  Once a plan to evacuate is made, stick to it.
Have a Plan B Ready
If the vessel isn't sinking quickly, it's very likely you'll have time to consider what your options are and plan for a few scenarios.  Once those plans have been thought through, decide which way to go as the situation unfolds.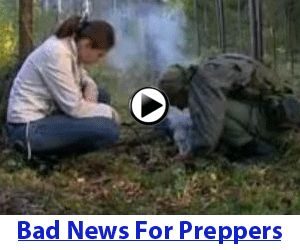 Stay Positive
Just like staying calm is extremely important, so it keeping a positive outlook.  If people let grief, hysteria or despair take hold, they often stop trying to live.  Now is not the time to give up.
Suggested Article: 5 Ways to Treat Hypothermia
Light a Signal Fire
Whether you end up on an isolated island or are stuck in a lifeboat with several people, sending a signal that lets rescuers know your location is going to be the quickest way to be saved.
There are several ways you can get a fire going.  If you are on land, gather dry tinder.  If you are in a lifeboat in the middle of the ocean, gather as much flammable material together, preferably in such a way that there is less chance of setting the whole boat aflame.
Suggested Article: 4 Ways to Start a Fire You've Never Heard of
Once you've gathered your materials if you have matches, FANTASTIC!  You're all set, just light your tender and keep adding larger pieces as the flames take hold.
Related Article: 3 Extremely Simple Ways to Make Waterproof Matches
If you aren't so lucky as to have matches or a lighter, you can always try the magnifying glass and paper method.  Using a magnifying glass, focus the sun's rays onto a piece of paper or other thin flammable material. Once the area ignites, feed the flames to build up the fire.
Don't have a magnifying glass available?  Here is a list of ways to create your own using water (which you should have plenty of for these purposes) with a variety of handy containers.
Snorkel/Diving Mask: Fill the mask with water and use it to focus the light.
Plastic Bottle: Fill a plastic bottle with enough liquid to create a narrow beam of light.
Plastic Bag: Fill a clear plastic bag with liquid and secure it into as round a shape as you can. 
Other items that might work include prescription eyeglasses and glass bottle bottoms.
Let Us Know What You Think...