Relocation should never be taken lightly. There are many critical factors to consider when selecting a new location to call home, primarily things like:
Natural Disasters
Nuclear Factors
Population Density
Quality of Life
Natural Disasters
Thanks to modern communication, we are all pretty aware of what natural disasters could potentially happen in each region of the country.  Fortunately, some disasters are easier to prepare for and recover from than others, like tornados over major earthquakes and seasonal flash floods over hurricanes.  If you think it would be easier to relocate to an area that isn't a high risk of any natural disasters, your options are going to be greatly diminished.  Plus, those will be areas that anyone who thinks the same way will also be heading, which could lead to a new area of population density.  We'll go into that later, but keep it in mind.
When comparing the two types of disasters, think about what kind of planning you would need as well as structural support you would require.  When living in a tornado-prone area, you can readily protect yourself with underground storage and living facilities.  With an earthquake, you need much stronger building and foundation structures, none of which will probably help if the "big one" hits.
What about hurricanes and flooding?  If you are living in a hurricane area, check the elevations so make sure you aren't also in the middle of a flood zone.  If you are living in the middle of the country, do your research ahead of time to avoid ending up in a major floodplain.
Also, don't just assume that if you are in the mountains, you won't have to worry.  Heavy rains during a spring thaw can occur at higher elevations, causing mud and landslides that could bury everything you have in a matter of seconds.
Nuclear Factors
No matter the source, when it applies to nuclear factors it's better to be far, far away if something goes wrong.  Far, far away, and in the right direction.  Why?  So prevailing winds in your area don't put you in the direct path of fallout.
To help you pinpoint areas that are least likely to put you in-line with radioactive winds, consider taking a look at maps that estimate nuclear threat and target locations, fallout patterns, and nuclear power plant locations.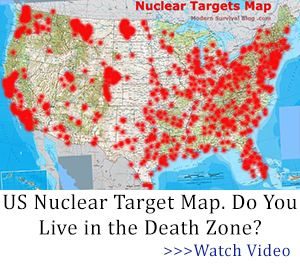 Population Density
These days, approximately half of U.S. citizens live close to urban areas. This population density can be convenient, and even more accommodating, to everyday life.  But what would happen in the event of a widespread catastrophe?
Unless the urban culture begins to incorporate in-house supply plans, major resources like food, water, and electricity would rapidly become depleted.  This depletion would force the general population to leave these urban environments to find new resources to survive.
Suggested Article:  4 Tips For City Living Preparedness 
Since population density is a major issue to consider, you'll want to avoid locations with a high population density from your list of potential sites.
Quality of Life
Of course, we all hope that a serious catastrophe never actually happens and that all of this planning is just to play it safe.  That being said, until, or if ever, something bad happens, you want to make sure you can enjoy your life as much as possible in the meantime.   The quality of life that you and the loved ones you are working so hard to protect is just as important as being prepared for the worst.
So, while you are waiting for the end of civilization as we know it, you will need to spend some time in that civilization for as long as it lasts.
Ideally, unless you plan to live completely off-grid from the get-go and homeschool, you'll be looking for a location with solid educational opportunities, low crime rates, good health care, a stable economy, job opportunities, and access to recreation.
Let Us Know What You Think...