Spring is coming quick, and if you're itching to get your survival garden planted, you will probably want to start seeds as soon as you can. If you don't have the budget for one of those homemade PVC pipe DIY greenhouses, or you can't build one because there's still two feet of snow in your yard, I've got a great idea for how to get seeds started quickly and easily indoors, greenhouse style.
This DIY mini-green house is ridiculously easy to make, and will hold in warmth and moisture just like a real greenhouse, only in miniature. If you've got kids at home, or better yet, homeschoolers, this is also a really great little science project to do with them, to explain how greenhouses work and how seeds pop up. Of course, teaching kids about science and the self-reliance of gardening is even better!
All that is required to make this simple mini greenhouse is an egg carton, potting soil, sandwich bags, and, of course, seeds. The plastic bags, when placed over the egg cartons, will hold in the warmth and moisture so that, even on a cold day, if you place them on your window, the daylight will warm the soil and the seeds and encourage them to sprout, to be ready for planting once the ground thaws.
What you need
cardboard egg cartons
potting soil
seeds
sandwich bags or other long plastic bags (clear plastic will work best)
Spray bottle filled with water
Sharpie marker
Rubber bands or sandwich ties
Directions
You will probably want to do this on a back porch or over the sink, somewhere you can easily clean up and dispose of excess potting soil.
First, gather your supplies, then open up the container of potting soil and, using a small spade or even a measuring cup, fill each compartment of the egg cartons with soil. Don't compress, you want the soil to be able to breathe. Repeat with as many egg cartons as you have.
Begin to plant your seeds, putting as many in each carton as is recommended on the seed packets for a 2″ space.
Write what you're planting on the side of the egg cartons with a sharpie as you go.
Once you're all finished, spray the soil with your spray bottle. You want to get it very moist for this initial watering; in the subsequent days you can just do a light mist, as needed.
Carefully slip your seed cartons into the plastic bags, and secure with the rubber bands or sandwich ties.
Place on a windowsill or table next to a window, wherever they will get the most light.
In the following days, check the moisture daily to make sure the soil isn't drying out. Water with the mister if you see any hint of dried out soil.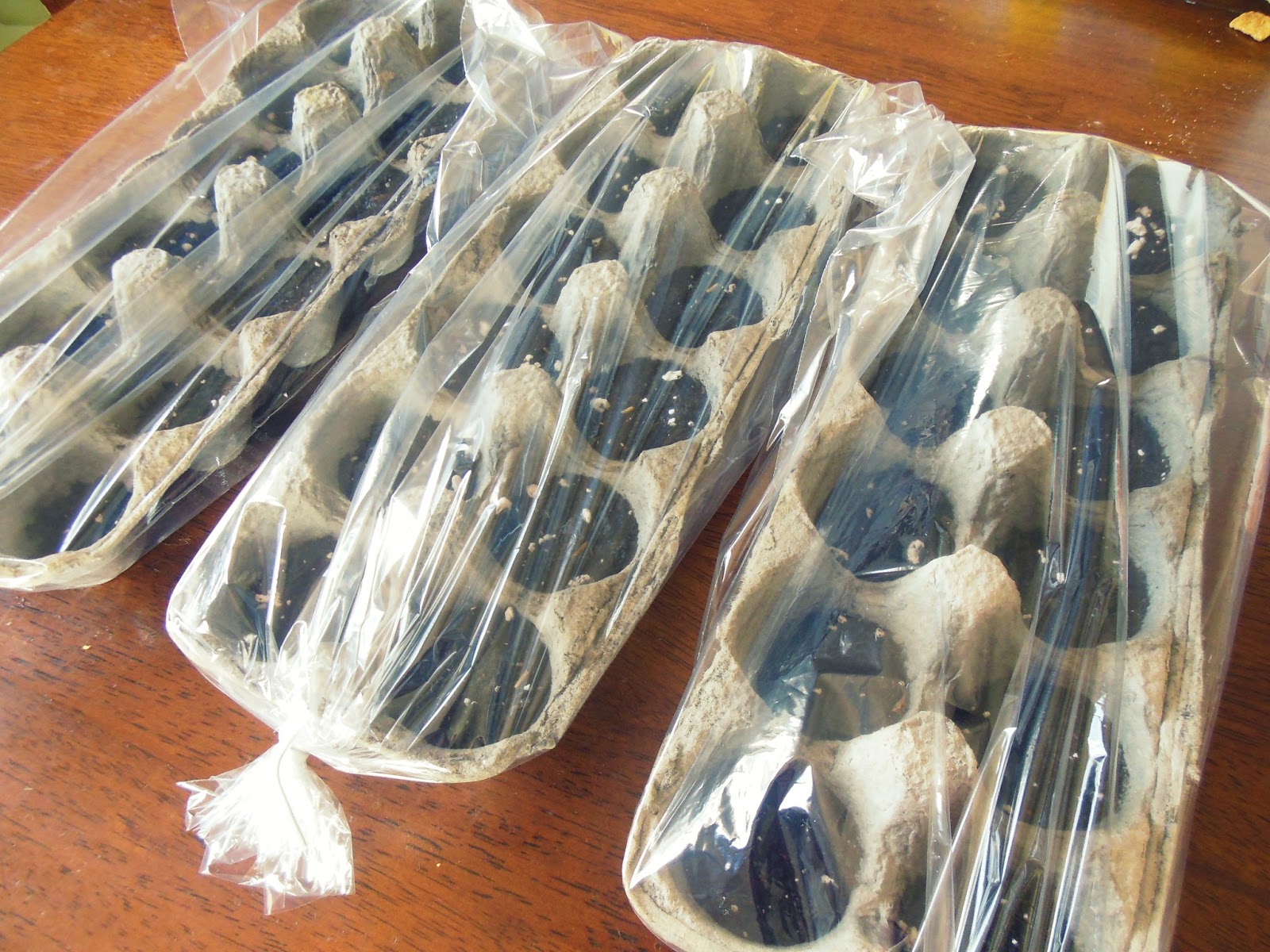 Watch to see your seeds sprouting, and be vigilant, as they might outgrow this little greenhouse very quickly. Before you set up this project, you'll probably want to have your 2″ pots ready for transplanting, as you'll want to let your seedlings spend the remainder of their time indoors with enough room to keep growing.
That's it! Happy planting.
Let Us Know What You Think...