A survival knife is an essential tool for any outdoor enthusiast. Whether you love to fish, hunt, or simply take a hike through the woods, your survival knife can be very beneficial.
Knives can have so many uses, and there are many that you may not have thought of in the past. So here are a few common and not so common uses for survival knives that you will have to use on your next outdoor adventure.
How to Choose the Best Survival Knife
If you are new to survival gear, there are a few things that you should take into consideration when buying a knife. Choosing the best survival knife depends on what you plan to use it for and the type of environment you will be in.
A fixed-blade knife is usually more durable than a folding knife, however, the folders are best for EDC kits.
Some of the best blade materials in the industry are carbon steel and stainless steel. Carbon steel is the strongest of the two, but it also tends to rust. Stainless steel doesn't rust as easily, but it can be harder to sharpen than carbon steel.
You should also think about the shape of the blade before you purchase one. Most people prefer a drop point or a spear-shaped knife. Curved tips can put a hindrance on the blade's ability to stab correctly. While there is no such thing as the best survival knife, choosing one with these features will guarantee that you have a knife that is long-lasting and reliable.So how can a survival knife be useful on your next trip?  Or even keep you alive?
Use a Survival Knife for Food
Did you go camping and forget to bring along the can opener? Your survival knife can help save your campfire dinner. Just place the can on a solid surface like a table, and position it perpendicularly on the edge of the lid. Holding onto your knife firmly using one hand, tap the end of the knife with the other until the tip pierces the metal.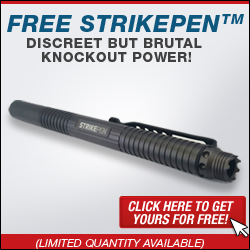 After creating a hole that is around a half-inch wide, you can either pierce more holes into the can or hold the can with one hand and attempt to make the existing hole larger by cutting into it. To do this, hold the can at an angle toward you with your left hand and use your right to slice the lid down. Rotate the can for 180 degrees and continue cutting. Be sure not to rotate and cut at the same time. Rotate the can, enlarge the hole, and repeat.
         2. Use Your Knife to Stay Warm
Staying warm while lost in the wilderness is vital to your survival. If you can't build a fire, you could end up with hypothermia, which could be very dangerous and in many cases, fatal. You can use your survival knife to gather up tinder to start a fire by cutting off small branches and twigs. You could also use the tool to create a bow drill fire starter that could get your fire up and going much faster. Creating a bow drill can take some practice, but with a little know how you will get the hang of it. There are also some survival knives out there that have fire starters built-in so that you will never need to worry about staying warm in a survival situation.
Related article: "7 Crucial Items You Need in Your Car"
Signal for Help
If you have a survival knife that has a high-gloss blade, you can use this feature as a reflective surface so that you can send a signal to for help.  Using the reflection of the sun has helped many people call out for help and get rescued. If your knife doesn't have a high-gloss blade, you can also use a mirror to create an S.O.S. signal.
Use a Survival Knife to Build a Shelter
Your survival knife can be very helpful when it comes to building a sturdy shelter to stay in. Your knife can cut into cords, dig small holes, or even chop large branches, or even small trees, to support your shelter. Even though a tool such as a survival axe may work much better to chop down a tree, it is still possible to use your survival knife to cut a tree when you are in an urgent situation. You can also use the knife to chop and gather large leaves for coverage.
There are other clear-cut reasons to carry a knife for survival which includes protecting yourself, building weapons, hunting, etc. and the list could go on.  Bottom line, a knife is more universal than most think, don't take it lightly
While many of these seem like thoughtless reasons to carry a survival knife, often times you take for granted the usefulness of your survival knife.  From simply opening a can or helping build a shelter, these are all critical to your survival in a dire situation.

Let Us Know What You Think...