Protein, Carbs, and Fat.  Three things our body's need to survive.  Without them, we wouldn't last long. To help you be prepared, here are four steps you can take to get ready.
Step 1 – Determine the number of months of food you want to stockpile.
Step 2 – Figure out how many calories your family needs per day. If you aren't sure, a good number to start with can be based on the following:
To maintain her weight, the average woman needs around 2000 calories/day and 1500/day to lose weight.
To maintain his weight, the average man needs 2500/day and 2000/day to lose weight.
Step 3 – Purchase or gather and preserve the amount of food you've calculated you need.
Step 4 – Store it safely and securely.
What Foods Are Best?
When preparing to stockpile food, it's a good idea to focus on items that are calorie dense and provide protein, carbs, and fat, that can also be stored long-term. These plus a few economy-sized bottles of a daily multi-vitamin to guard against scurvy and other hazards of vitamin deficiency and you'll be set to sit out an emergency.
Related Article: Are Vitamins Necessary in Your Survival Pantry?
Dried Beans and Rice
Dried beans and rice can be purchased in large quantities and are a fantastic source of both protein and carbs.  When purchased like this and packaged properly, these items can be stored for years.
Why?  Lack of moisture.  When food spoils, it is usually due to bacteria, mold, and fungus that builds to toxic levels.  These substances are largely able to do this because of moisture.  They all require water to spread.
Another reason beans and rice are excellent food stockpile items?  They are easy to prepare and can be combined any number of ways with any number of seasonings for a tasty meal full of nutrients.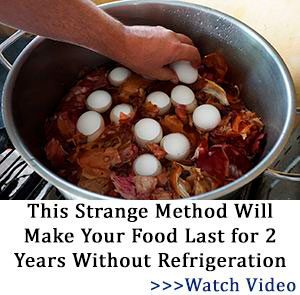 Peanut Butter
This childhood favorite has it all, protein, healthy carbs, and healthy fat.  It's low moisture, and high oil and fat content keep it from spoiling for ages.  And, even after its opened, it will last a lot longer than it will take to eat it.
Dried Meats (Jerky)
Protein sources like meat jerky also last a long time due to their low moisture content paired with other natural preservatives like salt. When prepared and package correctly, this food item will last quite a while.  One thing to note is jerky is not high in calories or fat compared to other items on this list due to how it is cooked.
It's also fairly expensive to buy in large quantities.  If, however, you have the means to make it yourself, it will add some variety to your supplies.
Canned Produce
If you are sticking to store-bought items, try to stick to glass containers instead of metal.  Even though many canned produce companies have started coating the insides of metal cans with plastic, the high acidity of some fruits and veggies can begin to corrode the container from the inside.  This doesn't make them dangerous; it just leaves the food with a metallic taste.
If you like to buy from local farmers markets when certain produce is in season, or if you have your own garden or fruit trees, consider learning how to preserve those foods yourself.
Suggested Article: DIY Canned Green Beans
Other Items You'll Want to Consider
If you are faced with an emergency situation, you'll want to have more than food stored up.  Other items you'll want to have on hand include:
Antibiotic Ointments and Bandages
Prescription and OTC Meds
Tool Kit
Candles and Matches
Flashlights and Batteries
2+ Decks of Cards, Board Games, Puzzles
One last thing.  Avoid letting people know you have a food stockpile.  In a dire emergency, you don't want to be invaded by a host of looters.
Let Us Know What You Think...