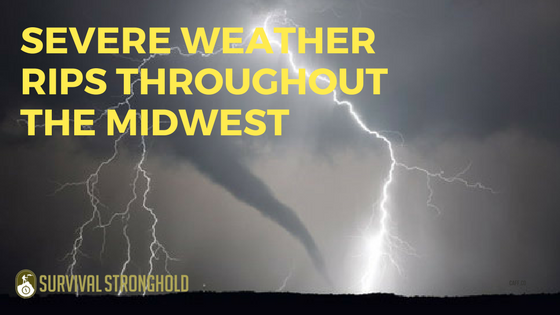 Meterologists warn that close to 100 million people throughout the Midwest are subject to extreme weather Wednesday, in the wake of 22 tornadoes that hit the states of Illinois, Missouri, Tennessee, Indiana, and Iowa last night.
Three people were killed and several injured by tornadoes Wednesday night, as high winds and tornadoes blew cars across highways and destroyed buildings and even entire areas.
The town of Perryville, KY, was hit particularly hard, as witnesses described it as "a disaster zone", with tractor trailers flipped over, cars scattered across the highway, and debris littering the hillside. Fortunately, all residents were accounted for.
Meteorologists also reported severe hail in several of the storms, and an Instagram user in Ottowa, Illinois posted a picture of golf-ball-sized hailstones.
According to the National Weather Center, severe thunderstorms will continue to pass through the Ohio and Tennessee Valley regions as well as Southern New England Wednesday, and more high winds, hail, and possible tornadoes are expected.
Amid all the chaos and noise of a divided political climate here in the US, these storms and harsh weather remind us that there's always going to be something to prepare for. We certainly hope and pray for peace and stability here at home, but you just never know when Mother Nature might strike.
Make sure you're preparing for these kinds of disasters now, before they strike your community. Get yourself a disaster plan, plenty of clean drinking water, determine where you can find shelter, your community's emergency alert system, etc. Here are some of the articles we've written about
Here are some of the articles we've written about natural disaster preparedness for your reference:
The Smart Way to React to a Tornado Warning
Nature Is Not the Only Threat In A Natural Disaster
Common Disasters and What You Will Need for Each
Why Keep Loperamide in Your Stash
What You Need in a "Get Home" Bag
If you enjoyed this, you might also like…
Please follow and like us: